Conference Tracker is the Conference App AND Web Portal for Attendees
By now all attendees have received emails from Conference Tracker with login information, inviting you to update your profile. If you have not received an email, please contact VAAEYC by email here as soon as possible.
Everyone has access to the Conference Tracker Web Portal. The web portal is available on a computer desktop or laptop and it is different from the app.
The link to log in to the web portal is https://conftrac.com/#/dashboard. This link is also in your email from Conference Tracker.
A complete guide to using the Conference Tracker portal can be found HERE.
The Conference App will be downloaded to a phone or tablet and will be how you access the conference details while at the event. This includes, but is not limited to, the workshop schedule, handouts, announcements and schedule changes, evaluations, maps, social sharing, and more.
In the App you can:
See the workshop schedule and all sessions.
See the full list of presenters and bios
Get announcements for any session changes
Build your own schedule
See the virtual exhibit hall
Have access to session handouts
Complete session evaluation.
Connect with other attendees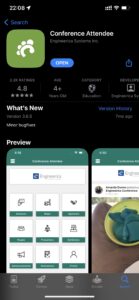 Download the ATTENDEE App