Autumn is here, along with a new school year. As we come into new routines in our classrooms, learn about new students and families, I chose these favorite back-to-school books. Getting to know the names of classmates, the change in color of falling leaves, our school community, the family table, and nocturnal animals are all relevant topics to touch on this season. All these titles encourage rich discussion, questioning, and lead to many *extensions you can bring to the classroom.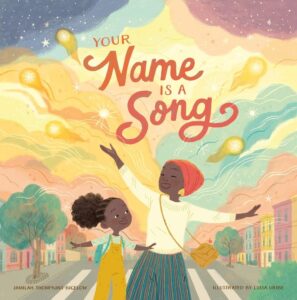 Your Name is a Song by Jamilah Thompkins-Bigelow (2020)
When everyone at school mispronounces her name on the first day, a little girl tells her mother she never wants to return. Ever. As they walk home, her mother tells her that her name is a song that needs to be sung. As they walk, the little girl learns how to sing many names of various nationalities. The next day, the little girl returns to school, empowered by the knowledge her mother shared and is ready to share that understanding with her teacher and classmates.  The text in this book includes a pronunciation guide as well as an extended glossary of names featured in the book as well as their origin and meanings. Your name, its origin, its meaning, and its pronunciation should be celebrated.
*Classroom extension: Find out the origin and/or meaning of your first name.
A Very Big Fall by Emmy Kastner (2022)
What's it like to be a leaf? The main characters in this autumn book include Birch, Oak, and Maple. As they turn colors and fall to the ground, these three leaf friends have new and exciting adventures eventually meeting a new someone. Readers may be introduced to new vocabulary in this beautifully illustrated picture book. They also might share the wonder and joy of the someone when she finds these very special leaves and hold them close. This is a great book to talk about feelings, as each leaf experiences a range of emotions as fall approaches and arrives.
*Classroom extension: Bring in various leaves for the children to explore using their five senses. Supply magnifying glasses.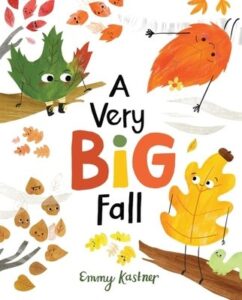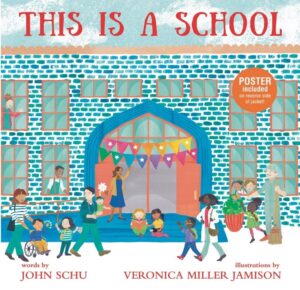 This is a School by John Schu (2022)
What is a school? It's more than just a building-it's a place to learn and explore.  It's full of all kinds of people and jobs. It's a community, a family, a place of discovery, wonder and teamwork. It's also a place to make mistakes and grow and change. It's sharing and helping one another. This beautiful book illustrates the school as a community, where we trust, hope, work, play, and celebrate diversity. It's a place where all are welcome. School is a place where we are all important and we can achieve our potential.
*Classroom extension: Learn about your school with a scavenger hunt. Find items such as the playground, music room, principal, books, etc.
The Blue Table by Chris Raschka (2020)
The simplicity of this book is refreshing and invites discussion and critical thinking.  The blue table starts out with a single item on it. One by one, additional items appear on the table as the text indicates what is happening, though all we see is the table. No people, no other furniture, no other rooms in the house. Gradually the table changes, gets bigger to accommodate more people.  We eventually see arms, then hands holding hands, a full table, a thankful table.  There's a lot going on, but the author has left the details up to the imagination of the reader. This would be good to introduce family/friend gatherings.
*Classroom extension: Have children create their own table. What color is it? What shape? What items are on it and why?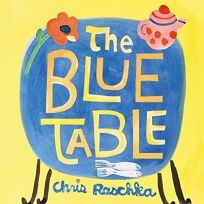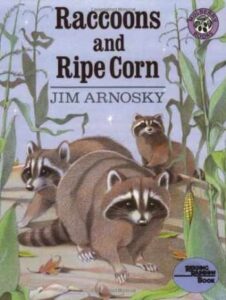 *Timeless Classic* Raccoons and Ripe Corn by Jim Arnosky (1987)
This delightful tale is about a family of raccoons who feast on corn and spotlights what goes on at night, outside, as we sleep.  Nocturnal animal activity is abundant all around us, yet few get to witness.  Arnosky's illustrations, using the light and shadows from the full moon on a clear autumn night, depict hungry raccoons searching for food and feasting in a nearby cornfield.  Attention to detail is clear, as the reader can see numerous other animals who are active at night, prowling and hunting, as they look for food and wander about. The text and illustrations are rich with description and invite conversation and questioning.  How do raccoons see at night?  How do you think the farmers might feel after the raccoons eat their corn?
*Classroom extension: After reading the story, create a list of the nocturnal animals you see in the story. Find out what they eat at night.
Aimee Gangai is currently a Preschool Teacher Assistant at Grace Lutheran Preschool in Winchester, VA. She earned her undergraduate degree in Child Study from St. Joseph's University, Long Island, NY and her MLS from Catholic University of America in Washington DC. She has over 20 years of library experience including university libraries and public libraries. Aimee is a member of VAAEYC, is an active volunteer with numerous non-profits, including Literacy Volunteers, Winchester Area, and helps maintain and evaluate books at her school library.  She thoroughly enjoys sharing her knowledge and enthusiasm for children's literature with parents, teachers, and children of all ages.