10 Children's Books To Read During LGBTQ+ Pride Month
Books that embrace diversity, celebrate individuality, and instill compassion.
Article Courtesy of Macaroni KID Subscribe here: nrv.macaronikid.com/subscribe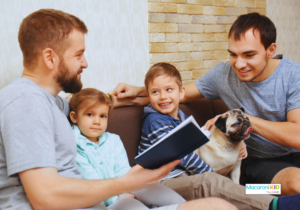 June is a vibrant and meaningful month filled with rainbow-colored joy! It all began in 1969 with the iconic Stonewall riots, a historic event that paved the way for the rights of LGBTQ+ Americans.
In today's world, Pride Month has evolved into a spectacular extravaganza, encompassing grand parades, lively picnics, spirited parties, and more that reverberate with joy across the U.S. But it also feels more important now than ever to raise our voices in support of LGBTQ+ rights, especially on behalf of the transgender community.
Spark conversations with your children about LGBTQ+ rights and the significance of being an ally with books that embrace diversity, celebrate individuality, and instill compassion. Let these thought-provoking stories, recommended by the Anti-Defamation League (ADL), guide you and your family toward a more inclusive and accepting world.
Together, we can create a future where every child feels seen, heard, celebrated, and loved for who they truly are.
The book links below take you to book discussion guides on the ADL website.
From the publisher: For one little girl, there's no place she'd rather be than sitting between Mama and Mommy. So when Mommy goes away on a work trip, it's tricky to find a good place at the table. As the days go by, Mama brings her to the library, they watch movies, and all of them talk on the phone, but she still misses Mommy as deep as the ocean and as high as an astronaut up in the stars. (Ages 3-7)
---
Stella Brings the Family
By Miriam Schiffer, illustrated by Holly Clifton-Brown
From the publisher: Stella's class is having a Mother's Day celebration, but what's a girl with two daddies to do? It's not that she doesn't have someone who helps her with her homework or tucks her in at night. Stella has her Papa and Daddy who take care of her and a whole group of other loved ones who support her every day. She just doesn't have a mom to invite to the party. Fortunately, Stella finds a unique solution to her party problem. (Ages 4-8)
---
---
Jacob's New Dress
By Sarah Hoffman and Ian Hoffman, illustrated by Chris Case
From the publisher: Jacob loves playing dress-up, when he can be anything he wants to be—a pirate, a bird, a firefighter. But he also wants to just be himself and wear his favorite thing… a dress! Now Jacob has a new dress that he made himself and what he wants most of all is to wear it to school. Will Mom and Dad let him? This heartwarming story speaks to the unique challenges faced by boys who don't identify with traditional gender roles and promises to spark discussions of gender, identity and self-confidence. (Ages 4-8)
---
| | | |
| --- | --- | --- |
| | | |
From the publisher: When Aidan was born, everyone thought he was a girl. His parents gave him a pretty name, his room looked like a girl's room, and he wore clothes that other girls liked wearing. After he realized he was a boy, Aidan and his parents fixed the parts of his life that didn't fit anymore, and he settled happily into his new life. Then Mom and Dad announced they're going to have another baby and Aidan wants to do everything he can to make things right for his new sibling from the beginning ... what happens if he messes up? With a little help, Aidan comes to understand that mistakes can be fixed with honesty and communication and that he already knows the most important thing about being a big brother: how to love with his whole self. (Ages 5-8)
---
From the publisher: On June 25, 1978, history was made when a new flag unfurled in San Francisco. From that moment forward, the flag and its rich, beaming colors of the rainbow would serve as a symbol of hope and pride for the millions of LGBTQ individuals across the world. Learn about the life of the Gay Pride Flag, from its beginnings with social activist Harvey Milk and designer Gilbert Baker to its spanning of the globe and its role in today's world. (Ages 5-8)  
---
From the publisher: Being born during a hurricane is unlucky, and twelve-year-old Caroline, who lives on Water Island in the U.S. Virgin Islands, has had her share of bad luck lately.  But when a new student arrives, Caroline believes her luck is turning around.  Kalinda soon becomes Caroline's first friend. Together, the two girls must brave their own feelings of friendship — and love — while they seek to discover why Caroline's mother has disappeared, or risk losing her forever. (Ages 8-12)
---
| | | |
| --- | --- | --- |
| | | |
From the publisher: When a tornado rips through town, twelve-year-old Ivy Aberdeen's house is destroyed and her family of six is displaced. Ivy feels invisible and ignored in the aftermath of the storm—and what's worse, her notebook filled with secret drawings of girls holding hands has gone missing. Mysteriously, Ivy's drawings begin to reappear in her locker with notes from someone telling her to open up about her identity. Ivy thinks — and hopes — that this someone might be her classmate, another girl for whom Ivy has begun to develop a crush. Will Ivy find the strength and courage to follow her true feelings?(Ages 8-12)
---
| | | |
| --- | --- | --- |
| | | |
From the publisher: It's the summer before middle school, and eleven-year-old Bug's best friend Moira has decided the two of them need to use the next few months to prepare. For Moira, this means figuring out the right clothes to wear, learning how to put on makeup, and deciding which boys are cuter in their yearbook photos than in real life. But none of this is all that appealing to Bug, who doesn't particularly want to spend more time trying to understand how to be a girl. (Ages 9-12) 
---
| | | |
| --- | --- | --- |
| | | |
From the publisher: Archer Magill has spent a lively five years of grade school in search of grown-up role models. Three of the best are his grandpa, the great architect; his dad, the great vintage car customizer; and his uncle Paul, who is just plain great. These are the three he wants to be like. Along the way he finds a fourth — Mr. McLeod, a military-based student teacher who both disrupts Archer's class and enriches it. In response to antigay bullying, Mr. McLeod gives the students a lecture in which he publicly outs himself, a particularly poignant moment. (Ages 9-12)
---
| | | |
| --- | --- | --- |
| | | |
From the publisher: Grayson Sender has been holding onto a secret for what seems like forever: "he" is a girl on the inside. The weight of this secret is crushing, but sharing it would mean facing ridicule, scorn, rejection, or worse. Despite the risks, Grayson's true self itches to break free. Will new strength from an unexpected friendship and a caring teacher's wisdom be enough to help Grayson step into the spotlight she was born to inhabit? (Ages 10-14)
---
Want more LGBTQ+ book suggestions? Check out the American Library Association's Stonewall Book Awards titles, which include a Children and Young Literature category.