VA

AEYC

serves Virginia early childhood educators with community, professional development support, connections, and advocacy.

---
When you join VAAEYC, you join a vibrant community of early childhood educators and advocates that support each other, learn from each other, and grow together.
DAP Support Statement
The Northern Virginia Association for the Education of Young Children (NVAEYC) and Virginia Association for the Education of Young Children (VAAEYC), proudly support NAEYC and the science, research and theories contained in the 4th edition of the DAP guide. Recently this guide has come under attack by elected officials in other states, being used as a political maneuver focusing on several statements within the book, taking them out of context for their true meaning. These actions not only alarm and sadden early childhood educators in our commonwealth but are troubling that something so vital to early childhood education could be stripped away so quickly by people who do not fully comprehend nor understand the importance of this guide. As professionals who reside within the Commonwealth of Virginia that work with, and for young children, we stand behind NAEYC and the principles and foundations in the DAP guide, all supported by years of research and science.
Virginia's new Unified Measurement and Improvement System (VQB5)
VQB5 is a measurement and improvement system that focuses on the quality of all publicly-funded birth-five classrooms and supports families to choose quality programming across different program types. VQB5 sets shared expectations for measuring quality and supporting teachers for all birth to five programs. Through VQB5, teachers and leaders will receive the feedback and support they need to help young children learn.
By fall 2023, all publicly-funded programs will be required to participate with ratings shared publicly in fall 2024. Early childhood programs that do not receive any public funds will have the option to participate.
VQB5 Resources for Practice Year 2 (2022-2023)
---

Donations to VAAEYC go directly to a Scholarship Fund to help support Early Childhood Educators get the vital professional development they need for licensing. The Scholarship Fund helps pay for Professional Development opportunities to help them advance their knowledge and professionalism, which leads to higher quality education for young children in Virginia.
VAAEYC Offers Scholarships and Assistance!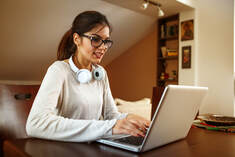 ---